Posts for: February, 2019
By James V Gagne, DMD
February 18, 2019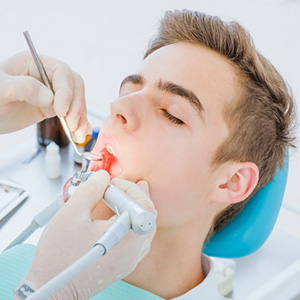 Long ago dental work could be painful and stressful—often for both patient and practitioner. Thankfully, that time is long past: today, most procedures are painless in large part due to local anesthesia.
Local anesthetics are numbing substances applied to specific areas of the body like the teeth and gums to temporarily block pain during a procedure. And because they only affect a localized area of the body, you remain conscious and alert throughout the procedure.
To achieve the level of numbing necessary for dental work, we often need to deaden the gums using a needle to deliver the anesthetic. But then this poses a secondary pain concern—the needle stick itself.
Again, topical anesthesia comes to the rescue in the form of a swab, patch or spray applying an anesthetic directly to the top layer of the gums at the injection site. This numbs the area and prevents you from feeling the needle stick. It's highly probable, therefore, that from start to finish you won't feel any discomfort during your dental work except perhaps for a little pressure.
Local anesthesia truly is a game changer for dental care—and not just for the patient. A dentist who's concerned about their patient's comfort level may work hurriedly to complete a procedure. But if their patient is relaxed, the dentist can work calmly and methodically. The result is better, more focused care.
For all its improvements in the patient experience, though, there has been one consistent complaint—the numbness that often lingers for a while after the procedure is over. But there have been advances in recent years that have helped reduce this irritation: new anesthetic agents (even some that can reverse the anesthetic effect) and fine-tuned dosages can help keep residual numbing to a minimum.
Not all procedures like routine teeth cleanings or enamel shaping require anesthesia. But when it's appropriate, local anesthesia can make your next dental visit much more pleasant.
If you would like more information on how anesthesia benefits your dental care, please contact us or schedule an appointment for a consultation. You can also learn more about this topic by reading the Dear Doctor magazine article "Local Anesthesia for Pain-Free Dentistry."
By James V Gagne, DMD
February 08, 2019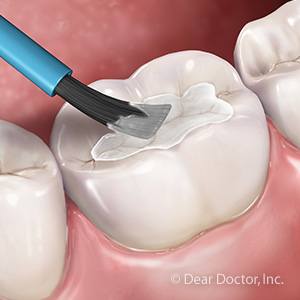 While children are less likely than adults to experience periodontal (gum) disease, the same can't be said for tooth decay. One aggressive form of decay called early childhood caries (ECC) can have a profound effect on a child's dental development and future health.
That's why dentists who treat young children often use a variety of preventive measures to reduce the risk of ECC and other dental diseases. One popular method is dental sealants, dental material coatings applied to the biting surfaces of teeth that fill in the naturally occurring pits and crevices. These areas are highly susceptible to plaque formation, a bacterial biofilm of food particles that tends to accumulate on teeth. It's the bacteria that live in plaque that are most responsible for the formation of tooth decay.
Roughly one third of children between the ages of 6 and 11 have received some form of dental sealant. It's a quick and painless procedure applied during a routine office visit. The dentist brushes the sealant in liquid form on the teeth, and then hardens it with a special curing light. It's common for children to begin obtaining sealant protection as their molars begin to come in.
With their increased popularity among dentists, researchers have conducted a number of studies to see whether dental sealants have a measurable effect reducing tooth decay. After reviewing the cases of thousands of children over several years, many of these studies seemed to show that children who didn't receive sealants were more than twice as likely to get cavities as children who did.
As evidence continues to mount for dental sealants' effectiveness protecting young children from decay, both the American Dental Association and the American Academy of Pediatric Dentistry now recommend it for all children. Not only can sealants help preserve children's teeth now, but they can reduce future costs for dental treatment that results from tooth decay.
If you would like more information on children's dental sealants and other decay prevention measures, please contact us or schedule an appointment for a consultation.