Posts for tag: baby teeth
By James V Gagne, DMD
December 30, 2018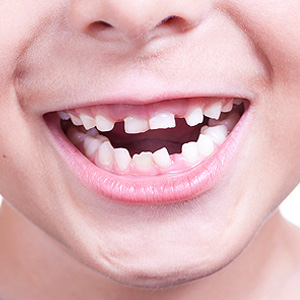 There are usually two moments when primary ("baby") teeth generate excitement in your family: when you first notice them in your child's mouth, and when they come out (and are headed for a rendezvous with the "tooth fairy"!).
Between these two moments, you might not give them much thought. But you should—although primary teeth don't last long, they play a pivotal role in the replacing permanent teeth's long-term health.
This is because a primary tooth is a kind of guide for the permanent one under development in the gums. It serves first as a "space saver," preventing nearby teeth from drifting into where the permanent tooth would properly erupt; and, it provides a pathway for the permanent tooth to travel during eruption. If it's lost prematurely (from injury or, more likely, disease) the permanent tooth may erupt out of position because the other teeth have crowded the space.
That's why we try to make every reasonable effort to save a problem primary tooth. If decay, for example, has advanced deep within the tooth pulp, we may perform a modified root canal treatment to remove the diseased tissue and seal the remaining pulp from further infection. In some circumstances we may cap the tooth with a stainless steel crown (or possibly a white crown alternative) to protect the remaining structure of the tooth.
Of course, even the best efforts can fall short. If the tooth must be removed, we would then consider preserving the empty space with a space maintainer. This orthodontic device usually takes the form of a metal band that's cemented to a tooth on one side of the empty space with a stiff wire loop soldered to it that crosses the space to rest against the tooth on the other side. The wire loop prevents other teeth from crowding in, effectively "maintaining" the space for the permanent tooth.
Regular dental visits, plus your child's daily brushing and flossing, are also crucial in preventing primary teeth from an "early departure." Keeping them for their full lifespan will help prevent problems that could impact your child's dental health future.
If you would like more information on the right care approach for primary teeth, please contact us or schedule an appointment for a consultation. You can also learn more about this topic by reading the Dear Doctor magazine article "Importance of Baby Teeth."
By James V Gagne, DMD
September 01, 2018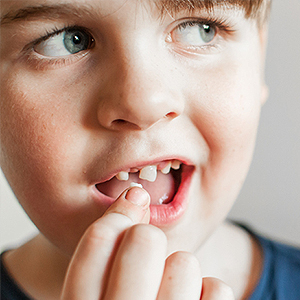 Ah, the baby teeth: those cute little pearl buttons that start to appear in a child's mouth at around 6 to 9 months of age. Like pacifiers and bedtime stories, they'll be gone before you know it — the last usually disappear by age 10-13. So if the dentist tells you that your young child needs a root canal, you might wonder why — isn't that tooth going to be lost anyway?
The answer is yes, it is — but while it's here, it has some important roles to play in your child's development. For one thing, baby teeth perform the same functions in kids as they do in adults: Namely, they enable us to chew, bite, and speak properly. The primary teeth also have a valuable social purpose: they allow us to smile properly. If a baby tooth is lost prematurely at age 6, the child may suffer detrimental effects for five years or more — and that's a long time for someone so young!
Even more important, baby teeth have a critical function in the developing mouth and jaw: Each one holds a space open for the permanent tooth that will eventually replace it — and it doesn't "let go" until the new tooth is ready to come in. If a primary (baby) tooth is lost too soon, other teeth adjacent to the opening may drift into the empty space. This often means that the permanent teeth may erupt (emerge above the gum line) in the wrong place — or sometimes, not at all.
The condition that occurs when teeth aren't in their proper positions is called malocclusion ("mal" – bad; "occlusion" – bite). It can cause problems with eating and speaking, and often results in a less-than-perfect-looking smile. It's the primary reason why kids get orthodontic treatment — which can be expensive and time-consuming. So it makes sense to try and save baby teeth whenever possible.
Procedures like a root canal — or the similar but less-invasive pulpotomy — are often effective at preserving a baby tooth that would otherwise be lost. But if it isn't possible to save the tooth, an appliance called a space maintainer may help. This is a small metal appliance that is attached to one tooth; its purpose is to keep a space open where the permanent tooth can come in.
If your child is facing the premature loss of a primary tooth, we will be sure to discuss all the options with you. It may turn out that preserving the tooth is the most cost-effective alternative in the long run. If you have questions about your child's baby teeth, please contact us or schedule an appointment for a consultation.