Posts for: April, 2016
By James V Gagne, DMD
April 28, 2016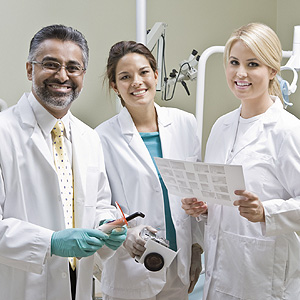 Dental implants are among the most popular tooth replacements with their high success rate, durability and life-like beauty. But obtaining them is a process that requires commitment, planning, and coordination — it takes a team.
Your general dentist is often the first team member you'll encounter: because they're most familiar with your mouth's condition the implant discussion naturally begins here. They can help you determine if you're a good candidate for implants, such as if you have sufficient bone mass at the intended site or if you have dental disease that must be treated first. They'll also continue monitoring your general dental health throughout the process.
Your general dentist may also have the special training for surgically placing implants. If not, he or she may refer you to your next team member: an oral surgeon or periodontist skilled in implantation procedures. This step first requires careful planning, including developing a surgical guide for precise placement of the implant. These specialists may also contribute to other aspects of the implant process such as tooth extraction or bone grafting.
A few weeks after surgery bone will have grown and adhered to the implant to form a solid bond. It's time for you to go back to your dentist who will work in conjunction with another member of your team, a dental lab technician. Together, your dentist and laboratory technician will guide the development, manufacture and placement of the implant's life-like porcelain crown. The technician will take their specifications from the surgeon and your general dentist and, with his or her skill and artistry, form a crown that will blend well in color and shape with the rest of your teeth.
We also can't forget another important team member: you. Without your input, especially in the early planning stages, your expectations for a more attractive smile might not be met. The rest of your implant team depends on you communicating your desires and wishes to balance with the technical requirements they must achieve.
The process for dental implants can take months. But with the coordinated efforts of your implant team you'll be able to enjoy results — renewed function and a more attractive smile — that could last for decades.
If you would like more information on dental implants, please contact us or schedule an appointment for a consultation. You can also learn more about this topic by reading the Dear Doctor magazine article "Dental Implants."
By James V Gagne, DMD
April 13, 2016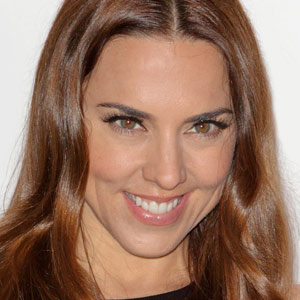 As a member of the best-selling pop group Spice Girls, Mel C (AKA Sporty Spice) enjoyed her share of musical superstardom. At the band's peak in the Nineties, the young singer's signature look featured baggy sweatpants, an assortment of tattoos, a nose stud and a gold-capped incisor, front and center in her mouth. Today, Melanie Chisholm is still singing — but now she's a mom, an amateur triathlete… and that gold tooth is just a memory. Not only that, her smile looks more evenly spaced and whiter than it did when she was referred to as the "tomboy" of the group.
What happened? In our view, it all boils down to changing tastes — plus a little bit of help from dental professionals. As the "wannabe" singer proves, there's no single standard when it comes to making your teeth look their best. Your own look is unique to you — and your smile can reflect that individuality.
For example, crowns (caps) are substantial coverings that may be placed on teeth when they are being restored. They are available in three types: gold, all-porcelain, or porcelain-fused-to-metal. The latter two are tooth-colored, while the gold is — well, shiny like gold bling. Which one is right for you? In many cases, it's your choice.
Likewise, dental veneers — wafer-thin shells that can correct cosmetic issues by covering the surface of your teeth — can be made in a variety of shades. Their hues may range from natural ivory to Hollywood white, and everything in between. What's the best color for you? Only you can say.
Some people opt for a "smile makeover" that uses small irregularities in the spacing and color of teeth to create a more "natural" look. Other folks want a perfectly even, brilliant white smile that dazzles the eye. Still others are looking to match or restore the smile they once had — perhaps even re-creating a signature gap between the teeth. As long as there are no other dental issues involved, the choice is yours.
So if you're unhappy with your smile — or if you feel it doesn't reflect the person you "wannabe" — why not talk to us about a smile makeover? Just call our office to schedule a consultation. You can learn more about this topic in the Dear Doctor magazine articles "Beautiful Smiles by Design" and "The Impact of a Smile Makeover."